When I taught preschool, we were encouraged in our classes to give the children unruled paper to write letters and their names without any boundaries or restrictions. We taught them using a white board, and showed them the correct formation, but then allowed them the opportunity to produce letters on their own through trial and error. I liked this approach because it gave the children freedom to learn and grow without the fear of making mistakes. Needless to say, I took this same approach when teaching my first child to write. You know how it is with the first child, so excited to see them excel. He could write his name and knew all his letters right around his third birthday. He still loves to learn and tends to favor math and science related schoolwork. But when it comes to favorite subjects, handwriting is not on the top of his list!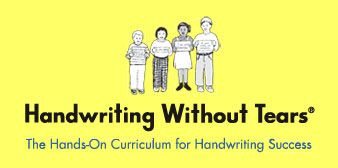 When I found out I was chosen to review Handwriting Without Tears I knew immediately I was going to use this program with my First Grader! A friend in my church used it and told me how she liked the way they taught the formation of the letters with memorable little sayings.
When I first showed the workbook to my son he dove right in and I had to slow him down! One of the strengths of this program is teaching children to START AT THE TOP when writing. As I watched my son, I noticed, (which I hadn't before) that he started at the bottom with most letters. At first I went into panic mode, "oh no, I've been teaching him wrong this whole time!" Then I looked at his handwriting I noticed this; when he took his time, no matter where he started, it looked great. But, when he rushed though, it was sloppy. An obvious observation, maybe... but when I read in the Teacher's Manuel as to why they encouraged instructors to teach writing letters from the top, it made sense. They suggest you try writing some sample letters quickly starting from the top and then from the bottom and see which look neater. Interestingly enough, even when "speed writing," the letters that were started from the top, looked better! I was sold.
$9.25

$8.25
I received the above products to review with my First Grader, products are also available in the K through Fifth Grade Range.
Every morning I put on a play list of related videos that meet the needs of all ages of my children. They are relatively close in age, so it works well and gets some energy out of them, especially on rainy days! Handwriting Without Tears has several videos on YouTube that have some of the songs included on a CD that goes along with the curriculum. You need to buy the CD separately but many lessons encourage the use of these songs. The song that I posted for you below show how this program encourages multi sensory learning.
The videos are a great way to get the kids up and moving and if you are in a homeschool setting, sometimes kids enjoy watching other kids on the screen learning the same things they are!
The beginning of the Teacher's Manuel is full of instruction on how to properly teach your student through song, hand movement and letter stories. Letter stories are a unique way to teach your child how to correctly write each letter. Then there is a lesson dedicated to each page in your child's book that take less than fifteen minutes a day. The layout is easy to read, only one page per lesson, and includes a "more to learn" section. There is also a thirty-six week plan in chart form that includes lesson plan ideas to do with your child even when he has finished his workbook. The format is easy to use and concise.
One of the few things I disliked about the program is the concept of the "magic c." I liked how they teach the students that once you know how to correctly write the letter "c," it is the basic tool for most of the other letters of the alphabet. It's just, our family tends to stay away from the term "magic" the best we can and I try to steer clear of anything with that word in our homeschool. It was easy enough to simply omit that term while teaching Handwriting Without Tears, so it didn't present a huge problem.
Disclaimer: I received a free copy of this product through the Schoolhouse Review Crew in exchange for my honest review. I was not required to write a positive review nor was I compensated in any other way. All opinions I have expressed are my own or my family. I am disclosing this in accordance with the FTC Regulations.