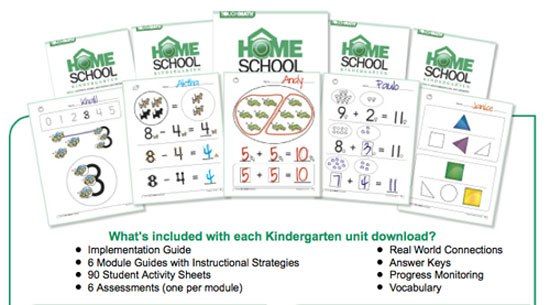 Some students love math. Actually, my first grader looks forward to his math lessons and when asked what his favorite thing in his homeschool was, he replied, "taking math tests." What? I certainly cannot relate. I dreaded math in elementary school all the way through college! I guess for him, it just "clicks," it makes sense. Every child is different as I'm learning now that I'm homeschooling my kindergartner. The program I used last year with my older son was Abeka. Very structured. Worksheets. A lot of repetition. It worked great with him. Not so much with his younger brother. And that's one the reasons I'm so excited to have the chance to review different types of materials this year. I have a chance to see what is out there. Instead of becoming frustrated when what I think should work isn't working, I can simply change not only my curriculum but my method. I received the Touch Math curriculum for Kindergarten which includes the downloads pictured above. I received Units A- D which retail for $59.95 each. (If you buy all four together it's $199.95). They also have materials for pre-k through second grade.
The name of the program says it all, TOUCH Math. The program is designed for tactile learners who thrive with hands-on learning activities. Instead of handing your child a "hundred chart" each day, you work with manipulatives and worksheets to help your child understand the concepts of what each number value is. Instead of simply teaching them "the number 2," you are teaching them that "2" is actually a symbol for a specific quantity.
How It Works
It is recommended that you double the age of your child and spend that many minutes working each day with them. When I started, my son was four years old. That means, 8 minutes a day. Simple yet effective. What makes this program unique is that it does not plan out every single detail for you. Rather, it provides you with methods, ideas, concepts, and goals. For example, in the first module (which is what my son has been working through) one of the goals is to count to 50. The instructions for each day do tell you what is excepted and which worksheets to use, but how you do it is entirely flexible. You can count objects in the room, outside or right in front of you.
Instructions
We would use our own manipulatives to encourage counting. Our time each day was usually spent doing the worksheet and using counters, like the monkeys pictured below, or wooden blocks that I had in the house.
We used our own counters that we had on hand
Student worksheet.
I printed mine in grayscale, they can be printed in color
Progress Chart
Not only was I able to review the curriculum, but I received their 3-D Numerals which includes a CD with printables.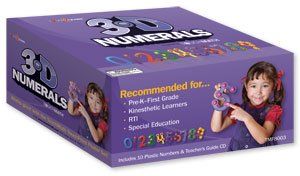 Touch Math also provided the Touch Math Tutor Kindergarten Software that retails for $99. Thanks to this program. The software and the concepts learned in Touch MathThis was the first time my son really has had success with addition. At first, he would actually use the physical touch numbers on his lap as he played the game on the screen and successfully solve addition problems. Once he got the hang of it, he was able to look at the touchpoints on the screen and figure it out from there. He enjoyed the games and the challenge but he actually preferred the time spent at the table working on the hands-on learning!
Click here to head over to their site where you can watch video samples of the lessons on the software! I found the quality of these videos to be outstanding compared to educational games that my children have tried over the past few years. It uses the different states for the levels and teaches your student where on the map each state is and gives some facts about each one!
I also received Touch Shapes which cost $30 on their site that can be used to teach basic shapes such as triangles, circles, squares, etc.
The curriculum takes shapes a step further and uses the shapes to help with addition and subtraction! Several of the lessons incorporate these shapes with their worksheets for hands-on learning!
Overall I would recommend this program for a homeschool family with children with developmental delays or for those who just need the hands-on style learning environment! I could see this working well in a public or private school setting! I'm so thankful for the opportunity to review these products!