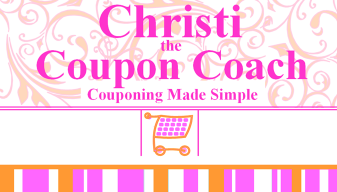 Couponing Made Simple by Christi the Coupon Coach is written for those who may have been interested in couponing but haven't yet taken the plunge. This book begins with several success stories of people who tried her method and saved large amounts of cash!
You'll read about people who recieved amazing deals:
$124.01 worth of groceries for $41.11
$54.40 worth of products for $1.55
$99.78 worth of groceries for $10.05
You'll see a snapshot of the products they received and how they accomplished such an amazing goal!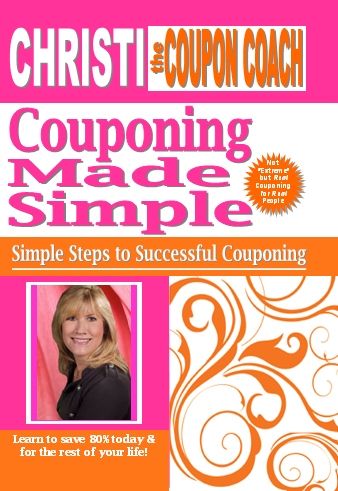 $18.00
The second section teaches you a "new way to shop." She shares two main keys to help you use your coupons effectively and efficiently!
The chapter I enjoyed the most was "the language of couponing." The author defines the terms commonly used in the arena of couponing, some of which helped me have a better understanding of how to receive the most bang for your buck!
My Experience:
Well, I have in fact tried couponing in the past and to no avail. I have kind of been turned off since I had heard all this rage about couponing. I realized I would spend more with the coupons since I would be tempted to by things that I normally would not buy. But, with the prices of food on the rise, I thought I would give the principles of this book a shot again. I mean, a lot of what she had mentioned I had some understanding of since many of my friends are couponers. Coupon match-up sites, the concept of buying more than one Sunday paper for the inserts, etc. I also am fully aware of the time that goes into couponing. The author provides great tips to stay organized and efficient but when one begins their couponing journey they need to understand that time needs to be set aside to clip, organize and search online for deals and match-ups at your local stores. As a homeschool mom, my free time is very limited and are usually packed with other commitments or activities that cause me to have no extra time for couponing!
After reading this book I did go out and buy a Sunday paper and was hoping to find some deals. I found 2 or 3 things I would enjoy, but they were "luxury items" and not anything I needed, so I decided to save my money and not get them just to get a good deal.
The main reason I am not into couponing is because our family is trying to get away from as much store-bought food as possible. It will be a process, but we are in the beginning stages of that process! If I start couponing I feel it is a step backwards for me. The bulk of our groceries are produce and meat. There usually are not coupons for these items, and if there are it is not the type that we find are healthy. One day we'd like to grow all of our own food. We have some small gardens this year and plan to increase them each year!
Even though this book is not for me, I appreciate the heart of the author and her desire to share her proven method with others who could benefit from it. She even has the gospel message in the book which is bold and wonderfully written!