Reading Kingdom is an online reading program teaching children ages 4 through 10 to read using a unique method formed by Dr. Marion Blank. The program recommends that a child should be at least 4 years old, able to sit still for at least 15 minutes and able to use a mouse to embark on this adventure! I used this program with my five and six year olds. Even though my 3 year old does know how to use a mouse for some online games, understanding the letters on the keyboard is another story. So, she isn't quite ready to give this a go. When you begin this program you need to understand that this is NOT a phonics based method. It's interesting. Most all of the materials that I find while in this critical stage of teaching my children how to read, is phonics based. I feel this pressure to teach them these rules and sounds. Funny thing is, I was not taught phonics in our school system and have been an avid reader since I was six years old! I'm not sure which method was used, but it was not phonics. I currently am teaching my children phonics but am still able to use this program as a supplement to help them expand in their writing skills. The method used in this program was patented by Dr. Marion Blank as the Six Skill Integrated Method. The following six skills are integrated together to help bring understanding and success in all areas.
SIX SKILLS
SEQUENCING
WRITING
SOUNDS
MEANING
GRAMMAR
COMPREHENSION
Click on the video below to hear Cindy Crawford's praise of Dr. Blank's methods.
One thing that sets this program apart from other online reading programs that I've tried, is the strict emphasis that the parent is not to help the child, at all. If they are still new to the concept of the mouse then you may help them in that area, but for everything else, the program is designed to teach and guide them throughout the entire lesson. This way, the program can work with the child if it notices that a certain skills needs to be perfected!
When you first sign your child up, you have them take a Skills Survey to see which level they should begin at. There are two parts of the survey. In the first part they practice their sequencing and keyboarding skills. Depending on the age and skill level of your child, the survey stops when it shows that it is the best level for them to start the program! My five year old only had to complete the first part of the Skills Survey.
My six year old continued on to the second part of the Skills Survey which helps determine their reading and writing skills. Spelling has been a struggle for him so I was excited that the program placed him exactly where he need to be!
DIFFERENT LEVELS
SEEING SEQUENCES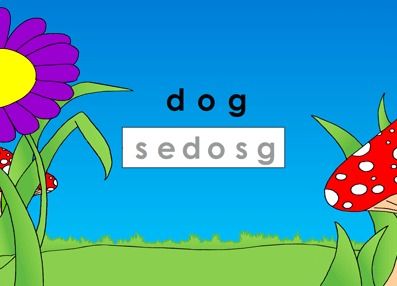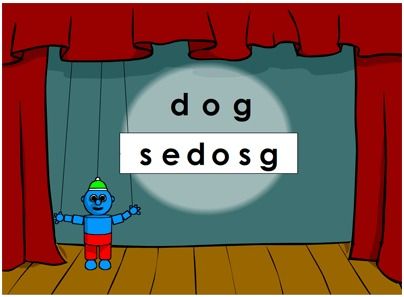 LETTER LAND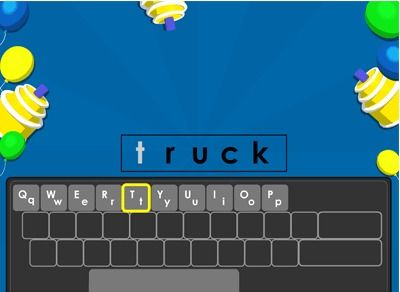 READING AND WRITING LEVELS 1-5
After taking the Skills Survey my five year old was placed at the Seeing Sequences/Letter Land level. This taught him basic sequencing to help him with reading as well as basic keyboarding skills.
Below are a few screen shots from one of his sessions.
He is learning to find letters on the keyboard. You have a choice to use an on screen keyboard or your physical one. It's easier for him to use the physical one. But sometimes it takes a little time. If the child takes a while, and seems to need a little help, an on screen keyboard will pop up showing the child where the correct letter is.
Once a level has been completed, the screen below is what is shown. A point system is used to determine what level they are on.
The next two screen shots are from one of my six year old's sessions. He was placed at the Reading/Writing Level One. Shown below is a story that is read to the child, using words they have been going over, then the child reads it themself.
And, my favorite part, spelling. This has been great for my son. He knows how to read these words, but the extra practice to spell them in a fun and interactive way has been helpful. I noticed when he was struggling with the word "girls" the program kept drilling him until he perfected it!
PRICING
1 Month Subscription $19.99
Additional children receive a 50% discount