Time4Learning is an online program for students in the Pre-K all the way through High School. Unlike a majority of other educational websites for kids, Time4Learning teaches subjects all across the board. Rather than focusing solely on phonics, math or reading, this website teaches Social Studies, Science, Math, Language Arts, and more. The variety of subject matter presented in different ways keep your kids engaged and entertained each session.
Unsure about the level of your student? No problem! You can sign up for a particular grade level and use the level directly above it or below it, if you need to. If you child is strong in a certain subject for example, you can have them work on a level higher in that subject but stay grade level in everything else.
I wasn't sure where my son was so I signed him up for second grade but had him work on some of the first grade material. Then, one time I was watching him and realized his reading lessons were way below his level. I ended up changing all of his subjects to the second grade and now he is right on target!
The parent controls are easy to navigate and are password protected so only you have access, not your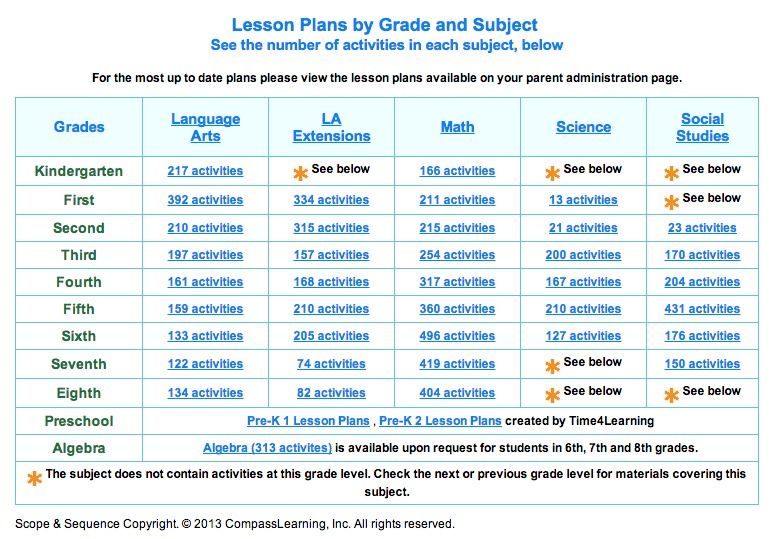 What makes Time4Learning stand out from the rest? THE TIMER!!! I love it. My son loves it. It just makes sense. Any other program that I've tried with my children use a point or reward system. Basically, how that works is they would do learning games to earn points, coins or something similar in order to "buy" time to play the more exciting and enticing games. For some reason, that method never worked for my kids. I would try the program thinking they would love the concept but still, even with the point system, it was too abstract for them. They knew they were going to receive points for finishing their lesson, but they would never be able to grasp how long the lesson would be. They would get impatient, frustrated and annoyed. I never understood why they couldn't just press through so they could get to the fun stuff. Now I see a better way.
Time4Learning takes a different approach which works wonders for my son. Instead of saying, "get 25 coins and you can play a game," it allows you to, for example, do 15 minutes of learning for 15 minutes of fun time. It's tangible, concrete and works for my child. The timer is continuously counting down for a time set by the parent. The child at anytime can go and see how much time is left before their lesson is over. I started out with 15 minutes a sitting and tried as long as 30 minutes. 20 minutes works the best so far and then he is able to play on the virtual "playground."
When the child starts their lesson, the playground is gray, rather than orange, meaning they are unable to access it. Once it is orange, they know that their time is up and they can go and have fun! Although, usually my son would go over his time on his lessons because he was enjoying those so much. The student is able to work on their lessons as long as is needed, it's just the playground cannot be accessed until the allotted time it up.
Not only is there a wide variety of subjects to choose from for the lessons, there is a vast mount of games for your child to enjoy during their "playground time." The amount of time spent here is up to you, the parent and as soon as the time is up, they are logged out of the game. Above is just a sample of some of the games they can choose from. A few of the games would take my son to other sites such as PBS kids or Sesame Street but it would still sign him out of the game when the time was up.
For some reason he loved the old arcade games, such as Pac Man. He would be so excited to share these "new" games with his dad when he would come home from work. Every time he would be
surprised when his dad had already heard of these games before!
With other online programs that I've tried, there would be one general "theme" or mascot" that was a constant throughout the entire program. For example, a certain character "teaching" them each new concept. What I like about this program is there is more variety with the graphics, images and types of activities the child can engage in. One lesson he might be reading a story and seeing how fast he can read a story. The next day he might be typing in words to a story. Other lessons, usually in science or history, a lesson is presented to the child and they take a quiz on what they have learned. They may be learning through games on one day and other days there would be listening or reading. My son has never been bored or complained about his program being too repetitive. One Saturday my son asked to do his Time4Learning not caring that it wasn't a school day, he enjoys it that much!
~ Separate Parent and Student Login
~ Featured Art from the Students
~ Customizable Student Schedule
~ Parent Forum to Connect with other Time4Learning Parents
$14.95 each additional student
Click the banner below to read other reviews from parents of all age levels.