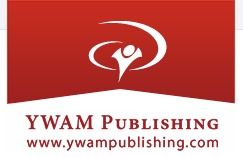 When I hear, Youth With A Mission, I immediately think of their Discipleship Training Schools and different ministry opportunities. I think of missions trips and intense spiritual training. YWAM is well-known for training youth to carry the gospel all over the world. Even when I was halfway across the world, almost a decade ago teaching in a children's home in India, I met Christians who had come in contact with YWAM. The impact they had left in that place was profound, especially in the lives of the leaders of that particular ministry. Recently, I have learned that not only does YWAM provide ministry training, but they also run a publishing company! Perfect for homeschoolers, YWAM publishing carries a series called Christian Heroes, some include a Curriculum Guide to use in your home or private school setting. I recently read Jim Elliot: One Great Purpose by Janet and Geoff Benge and the accompanying Unit Study written by them as well.
I received an e-book version of the book to use on my e-reader. Recently I've been using apps and e-books more in our schooling but this was the first actual curriculum that relied solely on my e-reader. It took a little getting used to but overall it was nice having all the material right there at my fingertips when I needed it.
They suggest gathering Ecadorian materials in a designated corner throughout your study to keep your children engaged.
with vocabulary for all sixteen chapters.
- Essay Questions
- Creative Writing
-Hands-On Projects
- Audio/Visual Projects
- Arts and Crafts
- Language Examples
Sharing what you've learned with family and friends with a community meal or presentation!
Suggested Memory Verse in Unit Study that I printed out
Throughout the years, in my personal life, I have had some amazing opportunities to travel to other countries and in several instances, on mission trips. Some were short, a week or so, others for several months. Reading this book revived a love and desire for missions in my life, not that it was ever lost by any means, but the fire has certainly been rekindled. Around the time I first became serious about going on the mission field I heard it said, as was quoted in this book, that 90% of Christians who feel they are called to missions, never make it to the mission field. That day, over 12 years ago, I vowed that would never be me. And even though I have some powerful memories that I cherish from the mission field in my life so far, I know there are still lives that I have yet to share the gospel of Jesus with, in the future.
You can usually tell a missionary when you see one, at least I can. Especially the ones who travel back and forth from the States on a regular basis. When they share about the people they are ministering to, their faces light up. You can't keep them quiet. They are in their element and everything inside of them want to get back to the people whom God has called them to be with. I imagine it's the same with a pastor going on a short vacation or ministry trip, their hearts have been knit together with their flock. On several occasions, I've met missionaries who long to be with a ministry they've established overseas but God had called them to the States, to teach. To train. To raise up a new generation of missionaries to go and carry the gospel even further than they have. You could see from the look in their eyes that they longed to be somewhere else, but they were called to plant seeds, and faithfully did so.
As homeschool parents, most of us are currently in the States, and have a powerful responsibility to train up our children in the way they should go. This goes for instilling a love for sharing the gospel in their little hearts. Providing them with an opportunity to learn and study about missionaries and martyrs such as Jim Elliot, is something we should share with them in our homes. One aspect of Jim Elliot's life that stood out to me, is that his father was able to come visit him on the mission field. Jim Elliot's dad had a passion for missions and after so many years, he was able to see the fruit of his labor and visit his son who was fulfilling God's plan for his life in the jungles of Ecuador!
If you think about it, so many youth these days are using "missions" as an excuse to avoid their responsibilities at home. Out of a rebellious spirit they run to a spiritual training center to get closer to God, only to completely ignore what God is trying to do in their family life. It's sad. The deception. But God is faithful, and I know of an instance where this was the case and after a few weeks a student flew back home from a Bible college, to restore his relationship with his dad!
I eagerly received this book and Unit Study for my second grader and kindergartner hoping to share with them my passion for missions. I began by finding a kid-friendly video on YouTube about Ecuador to set the stage. I then printed out some Ecuadorian coloring sheets I found online to keep them busy as I read. After the first chapter they were asking for more. The wording seemed a tad over their head in my opinion but they were picking up bits and pieces and enjoyed hearing about Jim Elliot's boat ride on his way to Ecuador! Yet, after a few times of reading, their attention span was not lasting very long. The stories about him meeting his wife and learning Spanish did not keep their attention. I ended up reading the story on my own and hope to share it with them either in a more simplified version or when they are a little older.
Pictures I had the kids color printed from the internet
I could see this working more for this age group if you already have older children and you wanted to include younger ones as well. But to have my oldest only a six year old, was a bit challenging! Now I see why the suggested age is 10 and older!
Overall the story was touching, memorable and written in a way that takes you into the life of Jim Elliot in a way like never before. His story was brought to life in an inspiring and challenging way!