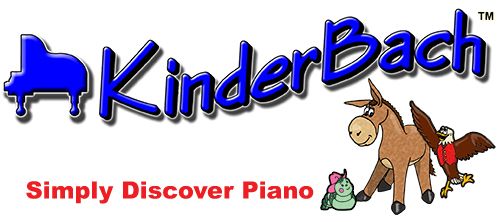 KinderBach is a piano program geared towards children ages 3-7. They offer materials for both group and home instruction. I received
The KinderBach Online Piano Lesson Membership with Teacher Corner (currently $95.88/year. reg. $130/yr) to be used at home with my children. I was excited to give this program a try since I have three, yes, three children in this age group! KinderBach offers six different levels. Each level takes ten weeks to complete with four lessons per week. My three and five year old both began with Level One. My seven year old began at Level Three.
The Online Subscription to KinderBach includes access to their Teacher's Corner providing homeschool parents with all of the downloadable materials needed to teach this music class to your children. When I first looked at the lesson plans I was excited to see that this music time could be a great opportunity for all of my children to learn together! When teaching three young kids, it's great to combine as many subjects as possible when you can. When I first started, this is what I did. But after a few lessons I realized that my seven year old already knew what was being taught and the first level was too simple for him. At this point, I simply separated them into two sessions. Teaching the two younger together and then my seven year old.
In the Teacher's Corner you Receive
The Following Online Resources
Access to All Web Lessons (over 240 sessions)
Teacher Guide
Certificates
Story Books
Coloring Pages
Song Books
What You Will Need
Computer
(iPad, Android, Tablet, Kindle Fire or Nook work also)
Printer
Piano or Keyboard with at Least 3 to 4 Octives
Simple Rhythm Instruments (sticks, bells, triangle, etc.)
Scissors and Glue
Crayons or Markers
My three year old loves KinderBach! After trying this program for a few weeks with children of different ages I realized that this program probably works best for preschoolers. Even though my five and seven year old enjoy it, it is my three year old who really gets into it! After the first few lessons she kept asking for more and was thoroughly engaged! It's funny, because I thought my seven year old would get the most out of this program. I didn't even think that my three year old was ready to learn piano, but the way KinderBach teaches music proved me wrong!
The program is not limited to simply sitting your child in front of a computer screen and learning from a teacher afar off. Rather, there are several different factors involved. First, there are workbooks that we used available in PDF format. I simply would print out a weeks worth for my children and put them in a folder near our piano. Then, there was the active part of the lesson. Rhythm instruments were an excellent tool used with the children, (more so in Level One than in Level Three). I simply have a bin of instruments including rhythm sticks and triangles that my younger ones use during the lessons. I would always keep them on hand since the children learned about notes and beats just as much as they did about the actual piano. There are also MP3 audio tracks with songs to use during your sessions. Then there is the actual teaching portion of the lesson on the website which are usually about five minutes long each. The progression of learning has been simple, repetitive and right on track with my younger two. They are eager to learn and relate well to the style of teaching in KinderBach. I'm not a fan of printing out everything, so even though the resources are all downloads, I simply put the Lesson Plan book on my Nook so I wouldn't have to spend the money on the ink!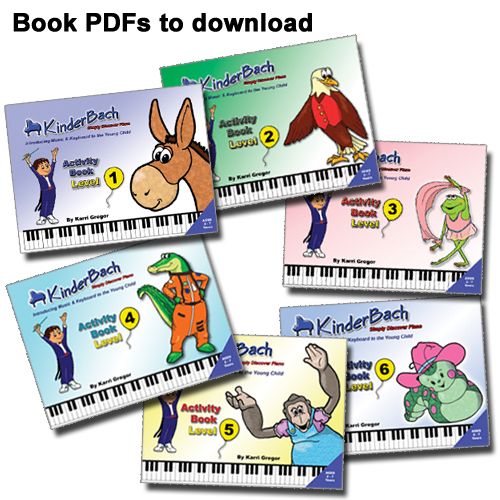 The approach to teaching the piano notes is different than what I have seen in my limited experience. I know very little. I never took a lesson in my life but I did teach myself enough to play a few worship songs back in college. Of course I never had the confidence to play in front of anyone. Even though I don't remember much or have any formal training, I have a strong desire for my children to not only know how to play the piano but to develop a love for music. So, in my thriftiness I got a free piano off of Craigslist and a pile of used piano books for $.50 a piece at the local Goodwill. I tried teaching my first son and surprisingly enough he caught on fairly well. But with my (extremely) limited ability, he can only go so far! Hiring a piano teacher is just not in our budget right now. KinderBach has been such a blessing because it teaches the child the basics and gets them not only familar with the piano but playing actual songs!
Rather than overwhelming the kids with a list of notes or stickers on a keyboard, KinderBach teaches each note one at a time with a cute mnemonic device to help them remember that note. The first note that the children learn is "d." The memory tool for the notes are animal charecters and "Dodi the Donkey" is used first. My three year old loves Dodi and when asking about piano would say, "can we do Dodi now?" The method is simple enough for my three year old to understand. When asked where Dodi lives she remembers, "by the two keys." Then she proceeds to tell me that the train lives on the three keys. When I asked her how she remembers this she said, "because I saw it a lot. And circled it." What she is referring to is the fact that there was much repetition about Dodi on the videos. Then what she learned on the videos was reinforced with coresponding worksheets.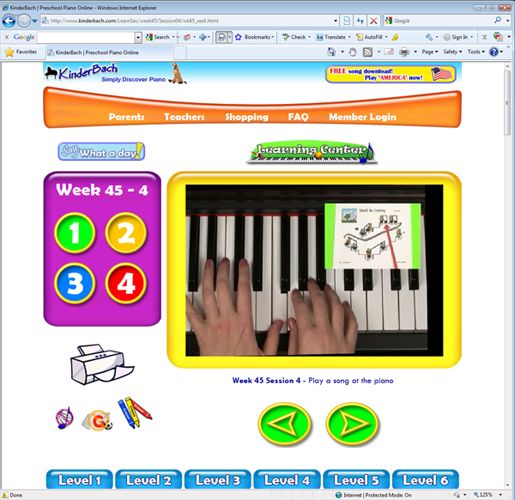 See the screenshot below? I love the "Blue's Clue's" thing Karri the piano teacher has going on here. For some reason, preschoolers respond to this method of teaching. They really feel like they are a part of something and that the person on the screen is interacting with them. Of course, you as the parent interact with them while teaching KinderBach as well but I like having the actual instruction coming from a professional. Review worksheets and singing songs with rhythm instruments, I can do, but teaching the in's and out's of music, I'll leave that to those who know what they are doing!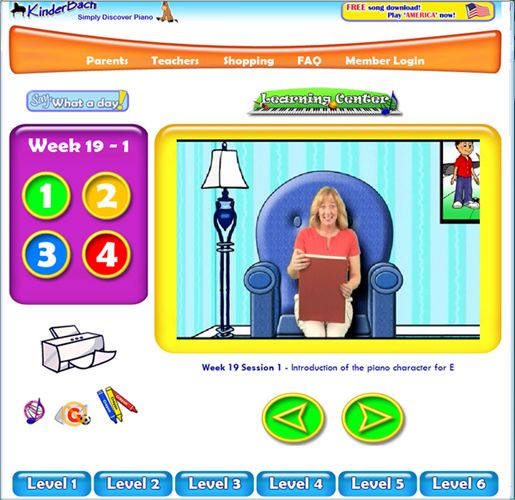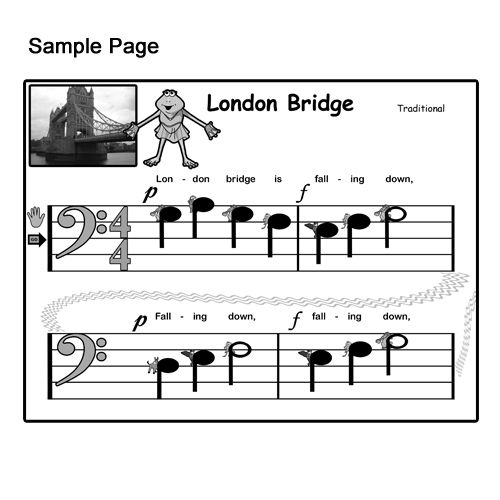 Even though I recommed this program mostly for little children (ages 3-4). My five and seven year old did gain from it as well. My five year old loves music and enjoyed learning also. My seven year old, though at times thought it was a tad "little kidish" still gained skills once I found what level would work best for him. He was able to learn, like I said, things that I have no knowledge of whatsoever. Like that the piano used to be called a "Piano Forte?" Then it was shortened to piano. Interesting! I would have to say his favorite part was creating his own song using notes cut out from the worksheets. He was so proud to play it!
Try KinderBach for FREE!!!
Curious to know if this is the right program for you? Give their Free Lessons a try!
Facebook
Facebook for Teachers
Pinterest
YouTube
Twitter


o