Media Talk101 presents the Captivated DVD, a film based on Colossians 2:8, "See to it that no one takes you captive through philosophy and empty deception." Finding freedom in a media captive culture is their theme and this theme is portrayed quite well through interviews, testimonies, stories and statistics that will cause many Christians to stop, think and evaluate their current media consumption. Geared towards adults, this movie provides information to empower the parent by expanding their knowledge and awareness of the effects of media in today's society.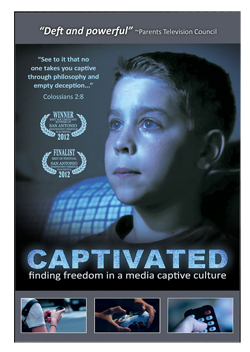 DVD
$16.95
This documentary's aim is not to have the entire Christian population completely unplug and hide in a cave. Rather, they are raising awareness of the need to be media wise in today's society.
"We are not saying, 'no media,' just use it in responsible and God glorifying ways." ~ Captivated DVD
This DVD is packed with quality interviews from speakers, authors, professors and evangelists including Jeff Myers, Mark Bauerlein, David Murray, Ray Comfort and others. The DVD shares testimonies from people all across the board who have once struggled with media in one way or another. Through their relationship with the Lord they were able to find freedom and beautifully share in the documentary how their relationship with God has been strengthened. From a woman addicted to farmville to a father caught up in the entanglement of Nascar races I personally found the testimonies on the DVD to be the highlight of this documentary.
It is no mystery that media has completely taken this culture captive. It indeed is captivating. Social media sites are captivating. I remember the first time I was ever introduced to social media. It was MySpace. I came across it somehow, years after everybody had already joined, but before Facebook ever hit the scene. I saw a friend that was on it and I joined. Someone I hadn't spoken to in a few years. It was fun to be in touch again. Then I saw another old friend, and another and another. The first night after that encounter, I went to bed with my mind flooded of what I was going to share on MySpace.
Immediately I knew something was wrong, something was not right, my mind was consumed with things that weren't even real, important or relevant to my present life. I had a choice. Do I ignore MySpace or continue on? I remember ignoring that "still small voice," and continued on and justified it. What a waste of time. I believe that God warned me from the get go and I completely ignored his warning. I eventually came to my senses and years later after being consumed with Facebook, left Facebook. I would remember that experience the first night I ever encountered social media and finally surrendered. Funny thing is, I don't miss it. I know it sounds crazy as a blogger not to be on Facebook but honestly, I don't need it! Pinterest and Twitter give me more traffic and response than many would think and truthfully the companies I write and do promotional work for respect that.
Even though we are not a media rich family (or so I thought) after viewing this DVD we felt to go on a one month media break. So, for the month of March we took a break from computer games, TV and other media based entertainment. We didn't completely unplug since I had commitments, contracts and agreements I had to fulfill that included online work, but we did give up media based entertainment for one month.
It's funny, because if you know me personally then you know that my husband and I are quite strict when in comes to media in the first place. So why would we need to take a break from media? We don't own cell phones, we aren't on Facebook, we don't have broadcast TV in our home and when the kids do watch a DVD or something online they are required to ask one of us first. We have set some pretty tight boundaries. But even so, we have a long way to go. This one month break taught us many things and brought us not only closer together as a family but closer to the Lord as well, in a way that only God can do. Before our media break our kids were allowed to watch 2-3 hours of videos a week and 1/2 of computer games a day, (not including online homeschool work). I thought that was a pretty reasonable amount and felt comfortable with that. But now, after our break so many things have changed and come to light.
We enjoying spending time together and I don't feel the need so much to just throw a movie on so I can get work done. Our time together has become more meaningful and never seems to be enough! Again, it's only something God can do.
I'm also glad we did this break because it showed me how addicted my three year old was to computer games. Obsessed is more like it. By the third day my boys were fine, probably because they've had boundries and restrictions their whole life. They've gone for a week before without TV so this wasn't new to them. But I realized now that maybe I started out my three year old on media way too early. Even through the last day of the break she would ask for it, even beg for it.
When it came to the end, I didn't want it to end. But rather we just changed our restrictions and allow even less than before. My boys are fine with it and even when asked said they never missed it. As for my three year old, I defienetly need to keep my eye on her!