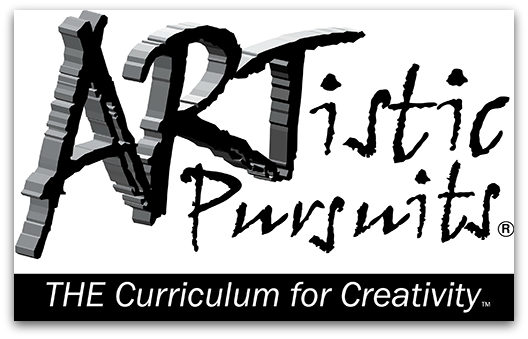 ARTistic Pursuits is an art program designed for students preschool through high school. In our homeschool, we have been working through the book, Early Elementary K-3: Introduction to The Visual Arts. This level has been a perfect fit for us since it tends to be more advanced than the preschool material yet simple enough to explain the basics in a way that kindergarteners through third graders can understand. Our family is drawn to the arts and has a strong appreciation for the arts on many levels. The only problem is, I have no clue how to actually teach art. I have a passion for art and a small amount of knowledge but art history and technique are not my strengths. So having a course available to use in our homeschool that ties all of these aspects together has been exactly what we have needed!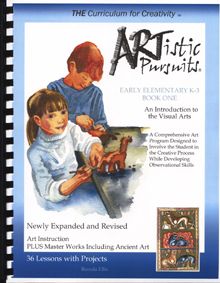 $47.95
When you purchase this book, you will receive a full school year's worth of lessons, all of which include fun and exciting projects geared towards younger elementary students. There are 36 lessons and we have been working on a lesson a week. The program's aim is to provide hands-on activities for your child while also teaching them how to be observant. They do this by having the student observe the work of famous artists such as Degas and Monet, paying attention to detail and the emotion that the artist is trying to portray. I love the idea of introducing famous pieces of art and artists while teaching simple art concepts. The child is not only able to learn from the piece of art but also able to form a relationship with it so if they come in contact with it again in the future, they will recognize it!
HOW IT WORKS
Once you order your book, you can visit the website and view the specific supply list for your particular book. At first I was nervous that I would have to spend a ton of money on the materials for these projects. But once I ordered everything I needed, I hadn't spent that much even when ordering for three children! When your materials are on hand you can begin! The first few lessons taught the use of watercolor crayons. Honestly, I had never even heard of this method of painting! First, you color with watercolor crayon and then use a paintbrush and water to go over the crayon and "paint." At first my kids struggled with the detailed items, everything seemed to smear, but then once they focused on drawing larger figures on their pictures they started to get the hang of it! Below, they had to draw a picture of a time that they enjoyed. They were supposed to remember the emotions and feelings that felt at that time and try to portray it in the picture. The picture below was done by my second grader who drew the time when he found his cat outside in the woodpile. It was a kitten when he rescued it and it has become a part of the family ever since!
Created with Watercolor Crayons
Yeah, part of the family. And, part of our homeschool art class. Poor cat.
One lesson asked the children to draw something in nature. Like I said, poor cat.
Created with Ebony Pencils
I'm pretty excited to be using this curriculum in our homeschool and I know I am not the only one. Check out what others have to say about this program by clicking the banner below.