Golden Prairie Press is a comprehensive complete American History program for grades 1-6. Our family has been working through the Digital Heroes and Heroines of the Past: American History Curriculum over the past few weeks and we have been pleasantly surprised!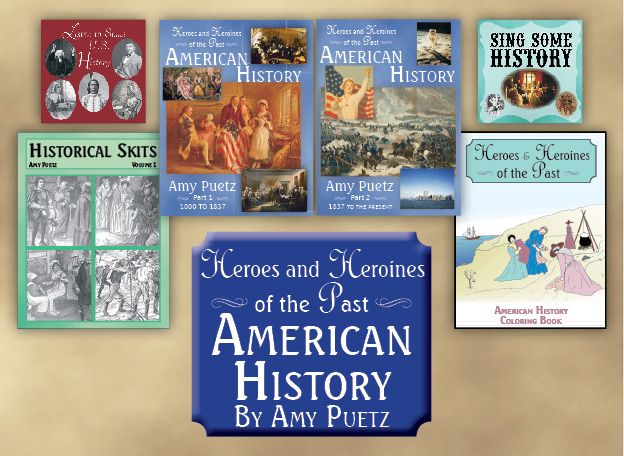 $98.99
Heroes and Heroines of the Past: American History Part 1 ebook
Sample
Heroes and Heroines of the Past: American History Part 2 ebook
Additional Materials Downloads
This CD has supplemental materials.
Historical Skits ebook
Nineteen skits from the time of Columbus to World War II.
Sample
Sing Some History CD
20 Songs!
Sample
Listen to Some U.S. History MP3 CD
An audio collection of 20 original speeches, poems, sermons, and documents that are mentioned in the book.
Sample
Optional Book
Heroes and Heroines of the Past: American History Coloring Book
Sample
Studying history through the eyes of the hero/heroine is an interesting and captivating approach that brings the stories and otherwise seemingly boring events to life! When merely looking back in time at a simple list of names, dates and events, kids (and instructors) can become bored, restless and uncooperative when it comes to attempting to tackle the subject. But when the children and instructors are able to enter into the history books by looking at the events from the perspective of significant historical figures, the kids become more attentive!
One problem that I have noticed with history programs designed for elementary aged students is that it is not comprehensive enough. It simply states a fact about history, expects the child to memorize and remember it and then moves on. I like to teach my kindergartener and second grader history and science together, (requiring more of my second grader in terms of writing obviously), but this past year the history program I used didn't seem to accomplish what I was hoping for. It was frustrating because I personally enjoyed the content of the book just not the way it was presented!
The most important factor that I look for when choosing a history curriculum is whether or not it is Christian based. It intrigues me, as the instructor, to view the same history lesson I learned in public school from a Christian perspective. It amazes me that I could have learned these events without specifically seeing how the hand of God was over these historical men and women! When studying the Bible, both Old and New Testament, we clearly see the hand of God in the lives of Moses, David and others. But as soon as we enter latter history it's easy to study the facts rather than the heart of the matter. I don't believe this should be the case. The Lord is the same yesterday, today and forever and when looking over the lives of others, it is important to see the consistency of the goodness and faithfulness of God towards His people!
This program does just that! Did you know that Pocahontas became a Christian? (I don't recall that in Disney's interpretation of the story!) Or did you know that Squanto also became a Christian? Knowing these facts are extremely important and looking into the intimate details of lives of Native Americans such as these too are extremely important. There is such a dilemma when coming across skeptics of Christianity who struggle with the fact that the white men came to the New World in the name of Christianity yet the Indians had to take the brunt of things. When looking at history at face value, from a secular perspective, yes, it looks grim and unfair. But when looking at the whole picture, (which could easily develop into another post sometime,) we can clearly see that God cares for His people and all of humanity, desiring for all men to come to Him!
This curriculum is not small! Book one is 388 pages and book two is 408 pages all covering American history. It is broken up with passages to read to both 1st-2nd graders and then a longer version for 3rd-6th graders! Perfect for large families with children of ages all across the board! I also am excited because now I am going through this curriculum with a kindergartener and second grader and then next time we study American History when they are older we can study the same events, in more detail, using the same program!
This program is extremely hands-on with plenty of activities!
Examine Historical Art
Play Games of the Past
Cook Up Some History
Sing Some History
Crafts
Experiments
Viking Ship Made of Play dough
Succatach
Since I received the color digital version, (a black and white hard copy is available also) I chose not to print it out but download it to our homeschool laptop. This worked perfectly. We would sit on the couch, read the lesson, examine the artwork (my kids loved this!) and then go on and get active with the other activities! Their favorite was the play dough!
Click on the banner to see what others have to say!