Library and Educational Services provides quality materials at discounted prices for teachers, home educators, missionaries, licensed day cares, church leaders and wholesalers. From Bibles to Educational DVD's, this company provides great deals to those who qualify as one of the above, (as most of you reading this do.) For our homeschool, we recently received two, (yes, TWO,) DVD's from the Go Science DVD Series 2. This series contains seven volumes and I chose, Volume 2: Life Science, Weather
and Volume 7: Engineering, Design, Flight.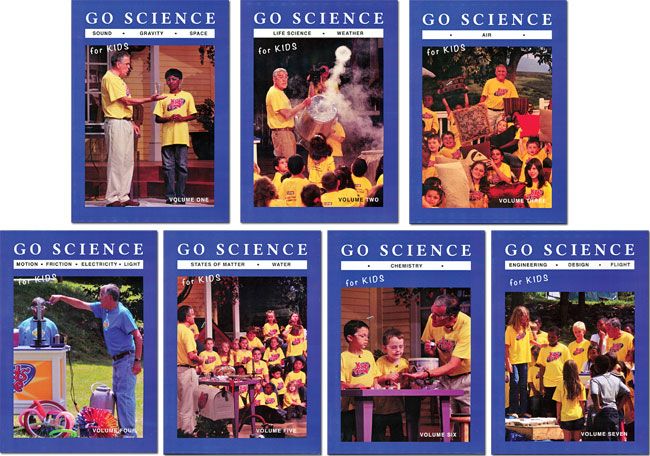 Volume 1: Sound, Gravity, Space

Volume 2: Life Science, Weather

Volume 3: Air

Volume 4: Motion, Friction, Electricity, Light
Volume 5: States of Matter, Water

Volume 6: Chemistry

Volume 7: Engineering, Design, Flight
When I first received these DVD's in the mail, I didn't know what to expect. Would the focus be creationist or evolutionist based? This is always my biggest concern when venturing out in the area of science. Fortunately, it didn't take me long to realize that not only were these DVD's presented from a Creationist
perspective
but an Evangelical Creationist perspective!
Score!
These DVD's are both a keeper and ones that I am excited to share with with you! Why? Simply because I have never seen a DVD series whose focus is to present both science and Biblical truths, together! These videos are recommended for children ages 4-12. The biggest draw for this particular audience is that there are children in about that age range who are performing the experiments on the videos!
The way the DVD's are set up, is each volume consists of many clips related to that theme. Each clip is a different science experiment performed for kids, by kids. Ben Roy begins either in a studio, school or outdoor setting surrounded by a group of kids. He then begins by introducing his helpers by asking them questions about themselves so we, the audience can get to know them! Most experiments have about three or four helpers. Roy then explains the experiment and allows the helpers to have a go. He then describes the science beyond the experiment and how it points to the Creator, God! The clips are short, quick and to the point, which is perfect for little ones with short attention spans. I showed these videos to all three of mine, ages four, six and seven. Even my four year old was able to both sit through the videos AND get something out of them!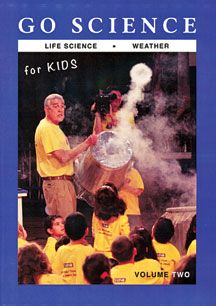 $8.97
$8.97
Even though the way that we approached these DVD's was to simply watch them, some of the experiments seemed easy enough to do at home! One day, my six year old kept asking me for different materials to make a rocket. It took me a while to figure out that his new interest was inspired by these DVD's! He also was pretty excited to see an episode with an experiment using a large trebuchet! He had received a small one for his birthday earlier in the year and loved it, so to see a larger one shoot balls across a gymnasium was quite impressive! Of all my kids, he was most drawn to these DVD's.
My favorite aspect of this series was the evangelical aspect. I don't know where these episodes were filmed, but as I was watching them I was reminded of street meetings for children that I've been a part of to share the Gospel. I've seen puppet ministry, music, clothes and drama ministries share the Gospel I have never seen science experiments used to lead to others to God as the Creator; not until now! There is a genuine need for this type of ministry in our schools, neighborhoods and communities today and I am excited that they have been made into DVD's so they can be shared with others!
I also have to say, the prices of this company are certainly outstanding! I have been looking for a Bible for my seven year old and when I looked at the local Christian bookstore for a decent, leather Bible the prices were too high! I was able to purchase one for my son through this company for only a little over $10 (compared to over $20 at the bookstore,) very reasonable!