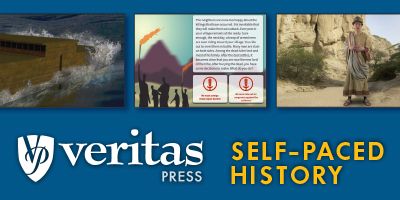 I am pleased to introduce to you Veritas Press, a Classical Christian curriculum! We have been having so much fun with this course and look forward to continue to use it throughout the summer and next school year! Recently, we have been using one of their online courses that you can receive access to for $199.00 for an entire year. I chose to use Veritas Press Self-Paced History: Old Testament and Ancient Egypt with my second grader, it is recommended for students in grades second through sixth. To go along with this course, I also received their Old Testament and Ancient Egypt Flashcards ($19.95).
Why I Chose This Program
Teaching about Ancient Egypt makes me nervous. Primarily because when I find resources from the library or online the focus is secular rather than Christian. Basically the child learns how to make a mummy out of toilet paper and hieroglyphics are introduced. The focus is usually placed on the gods and the evil of the day. When I realized that this program taught Ancient Egyptian history alongside Biblical events, my curiosity was piqued.
The Way It Works
This program is primarily online. Each online lesson last about twenty minutes (more or less) except for test days, which consists solely of the student taking an online test that is graded, scored and averaged in with his other grades for the course. There are a few offline extras to reinforce what is learned. which I will mention later!
When your student first begins his lesson, he is introduced to the great sphinx who guides him through the lesson of the day. He is also greeted by Bible times characters who provides a majority of the "teaching" portion of the lesson.
The order of the materials represented in each lesson is switched up and not the same each day, most likely to provide variety for the student! So, each day, in no particular order, the child will watch a video of the "timeline" song. This song which includes both events of the Old Testament (beginning with Creation) mixed with the events of Ancient Egyptian history.
Also included in the lessons are Bible readings directly from the Scripture. At first, my second grader was overwhelmed by this portion of the lesson. Looking at a screen while listening to someone read a large portion of Scripture was long and boring for him. I was determined to have him sit through it because I found this part of the lesson powerful. The reading of the Scripture, untainted, word for word from the Bible is important. I appreciated that the Bible was used as a "textbook" to teach history in this program. It is beneficial for the student to both read the verses on the screen while listening to it being read at the same time. This is an effective learning method for many, and eventually my son benefited from it!
Some lessons include games or quizzes to help reinforce what is being learned. Most of the activities are simple enough for my second grader to be able to read for himself, but for other lessons he did need help some help. So, be sure to note, your student will need to either be able to read the questions or have someone to read them to him.
Remember, this study does not solely teach Biblical history but Egyptian history as well! This course teaches a detailed account for Ancient Egypt, all from a Christian perspective, reminding the student of the acceptable ways of God while presenting the history and culture of the Ancient Egypt.
Since I've started homeschooling, I've been curious as to the best way to present "time lines" to my kids. I tried hanging on one the wall and place images to what we were learning as we studied them. I also briefly tried a curriculum that had the child create one in a notebook. What I appreciate about the method used in this particular program, is they use music with visual aids to teach your child events in chronological order. They also clearly describe what chronology is, in a way that even my second grader could understand.
The student learns 32 events in chronological order throughout the lessons. The events are presented in the lesson through song, throughout the lessons and visually found on beautiful and sturdy color flash cards! The events begin in Creation and continue to the Fall of Egypt to Rome.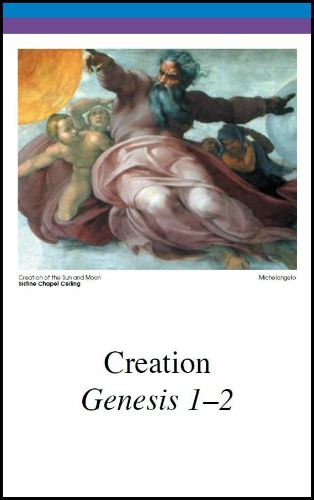 Front of Flash Card
When the cards are presented in a lesson, and the student pulls out the card that matches the one on the screen to learn more about what is being taught!
The cards aren't used in every lesson, but when they are they provide important information and relevant images!
Back of Card
The back of the card includes important information for the present topic and is presented in a manner that is easy for your student to read and study from! Also found on the cards are resources that could be used in addition to the online program. These are "extras" that could be used for further learning. Most of the books would need to be ordered ahead of time so I didn't use this section often. But, I did happen to have one resource in my homeschool library already and was excited to pull it out and put it to use! Other extra activities that can be used offline are found in the attachments section, including making an ark!
I find that when using any Bible-based material in your homeschool, it is important to know the doctrine of the company. I may have missed it, but when looking on their site, I could not readily find any Statement of Faith. It wasn't until lesson 27, that I was introduced to their personal belief and doctrine. They are Trinitarian and believe that God is one, but in three distinct persons. Many of you reading this agree with this theology. Yet, for those of you reading who are of the Oneness/ Jesus Name Baptism school of thought, I wanted to put this information out there for you!
Curious to know what other families think of this program? Click on the banner below to find out!