To keep up with his math skills this summer, I had my son practice with UberSmart Software. This downloadable program ($24.95) is for Windows based computers. My son has been working with the UberSmart Math Facts program to rehearse his addition and subtraction facts and to begin learning his multiplication facts.
I currently use Abeka Math for my two boys and have been using it with my oldest from the beginning. Personally, I am a fan of the memorization and the method of teaching used in that program. It encourages quick answers and memorizing of math facts. With my oldest, I used to sit with him and go through flash cards. The curriculum pretty much encourages this every day, I can't say that I was entirely faithful with it, but I would try! The challenge began though when my second son entered the picture. At first I would try to sit them both down and go through he cards. Fail. Obviously, the oldest would answer them all correctly first. Then, I would do half of the cards with one, and then half with the other. It worked for like a day, but the one not involved would always get so fidgety!
When I heard about UberSmart's online flash card program called UberSmart Math Facts, I was excited to try it out and see if this could be incorporated into our schooling! The timing was perfect too, summer. Summer is always a time where parents who take summer break are nervous that their children will "lose" some of their math knowledge. Previously I had schooled year round so heading into my first "summer" with the kids did make me a tad nervous, I'll admit. I was excited to have this program to try so my kids would still be able to work on their math over the summer.
How it works is you will download the program to your computer and receive a code to register it. This means that you can use the program completely offline. Once you download it, the program is on your computer and it is yours to keep. This program works on Windows 7, 8, XP and Vista only

. Once downloaded and registered, you can add eight or more students at a K-6 level.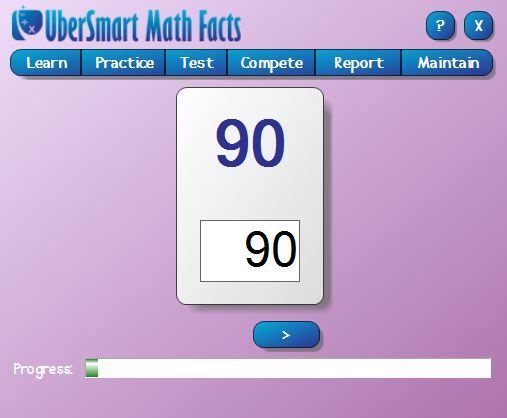 Once signed up, each student can take a test to see where they fall in the program and what skills they need to work on. My pre-schooler had a hard time finding the keys on the keyboard so she worked on keyboard entry, pictured above.
With Keyboard entry, basically a number would appear and she would have to type it in. She enjoyed this task, it took a while but when she did it, she liked it. I think she liked the feeling of completing a task.
After my first grader took the test, the results said that he wasn't really ready to work on his math facts such as addition or subtraction simply because he needed to work on his keyboarding skills. He was able to figure out the problems, it just took him too long to enter them on the keyboard. And, this is a timed program, so speed is key. I realized after this that he would do better with physical flash cards. Rather than trying to obtain keyboarding and math skills at the same time, I decided to skip this program with him, to ease the frustration.
As for my third grader, this program has been a perfect fit! It is challenging at times for him to stay speedy and type in the answers quickly, but he already is excellent at math and this pushes him to be even better and quicker! I started him out with easy facts and once he mastered those, I would go to harder ones. Now that we are in school again, he is working on his threes times table. Perfect! I simply go to the "learn" section of this program and have him watch the flash cards for the multiplication of the threes. He doesn't need to enter anything at this point, he just watches and learns. Then, I have him go to the "practice" section. It only takes five to ten minutes a day, but I will have him do it right before math class to get his mind working on the same facts that we will be going over!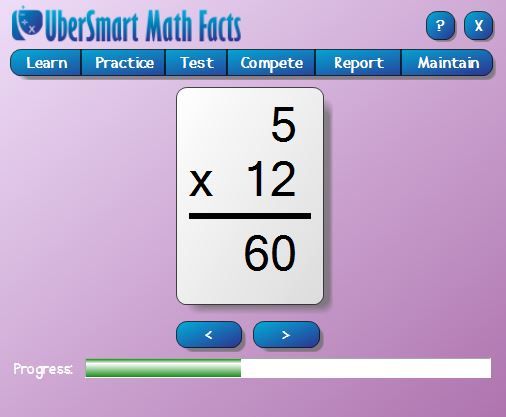 I plan on continuing to use this with my third grader since basically, he can learn and practice his facts quickly and easily while I am working with the other kids on something else. The program is simple and effective for students who already have good keyboarding skills. If not, there is ample opportunity for students to gain speed and accuracy with this program!
Click the banner below to see what other Crew Members thought of this program!