For summer entertainment, we recently received a CD from the Wizzy Gizmo company entitled Audio Drama One: Who Created Everything? by Chris Del Aguila and Justin Cummins.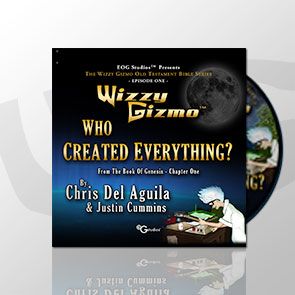 $14.99
This audio CD is a 22 track recording sharing in song and story about the Creation account in Genesis. Rather than each track containing an episode, all tracks of this CD are one complete story with songs that in total lasts about an hour!
Beginning with an intro song (with sort of a Value Pac/ Ghoti Hook feel to it,) you are introduced to Wizzy Gizmo. The story begins with the professional sounding narrarator introducing you to the kids of Sunnyville during their summer vacation.
You are first introduced to Eli, the new kid in town who meets friendly neighborhood kids who then whisk him away to meet the eccentric inventor, Wizzy Gizmo. This guy loves to invent all kinds of creative items such as spoons that can fence and toasters that can dance, (my kids got a big kick out of that one!)
The main point of the story is centered around Wizzy Gizmo's most recent creation, Gizmo Vision. This invention takes any book you have and creates a lifelike reality instead a bubble. The charecters can then hear, see, touch and feel whatever is experienced in the story!

Their first venture goes back to the very beginning of time.
They travel through each day of the story of Creation. Beginning with day one they experience creation in action! From darkness to light to the creation of the birds and fish, the children see firsthand Creation as the narrator reads the account from Genesis for the listener.
My kids were certainly captivated by Wizzy Gizmo and his interesting inventions. They laughed, they sang, they replayed the song "Mango" a gazillion times while dancing around the room wildly. Sometimes the narrator would speak in rhyme, certainly capturing the attention of my four year old and the older ones as well! This is geared for children ages 4-12 but I saw it more of a fit for kids ages 4-8.
Dispersed throughout the story are different songs for your entertainment. I also love how they mention d
inosaurs several times throughout the account!
For those reading who are concerned about what doctrine your children listen to, this CD promotes the trinitarian doctrine.
Once the story is over,
there was a s
ong reinforcing the days of creation with a Third Dayish tune. Then a "
Giz Quiz" is presented with questions such as 'whose image were we made in'?
Finally, the CD ends with several tracks of songs and sound effects. Personally, the music presented on the end of the CD are not something I would generally play in my home, but thats just my preference.
Listen to a sample on their website and check it out for yourself!
If you plan to buy for yourself or a gift, you can receive up to 10% off your order when you share about Wizzy Gizmo on the web!
Click the banner below to see what other Crew Members thought!