Congratulations to ANGIE L. for winning a FREE TICKET to this conference. Also, A BIG thank you to the Old Schoolhouse for providing this ticket!!
If you would like to purchase a ticket, there is still time. You can find all ticket information here.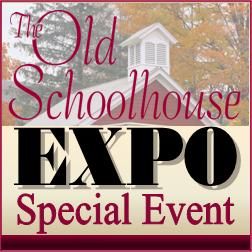 In my previous post about this amazing event I shared with you some of the exciting speakers aand topics that will be found at this event. CLICK HERE to read my previous post.
So what exactly is an ONLINE CONFERENCE?
Do I have to sit in front on my computer screen all day, every day?
Um, no. Who can do that? Haha! But what you can do is look at the schedule here and see which speakers really capture your attention and plan to tune in at that those times. You also will receive a link after the conference is over allowing you to watch all of the sessions at your own convienence! I know that there is a class on how to make a computer game, I plan on watching this with my oldest son and take notes!
How do I log in?
You will be sent an email the day before each session. simply click on the link to enter!
What are the benefits of watching during the actual convention time?
There will be an oppotunity to ask questions of the speaker through a chat box and you'll be able to connect with other attendees! There will also be giveaways going on during the conference available only to those attending during the actual sessions!
Hope to *see* you there!!!
*disclaimer* I will receive a pass to this conference in exchange for promoting it.
All opinions expressed are my own.